If you're dreaming of a new, bespoke kitchen but your budget won't quite stretch, help is at hand. We have recently launched a prestigious furniture collection, which may feel and look like it's bespoke but which comes without the higher price tag. Mark Taylor Design is renowned for designing and manufacturing superlative bespoke furniture, with more than 20 years' experience. The company has now curated MeThD, our new, unique concept kitchen.
Our MeThd Traditional Shaker-style classic kitchen is featured in Platinum Blue for a modern neutral finish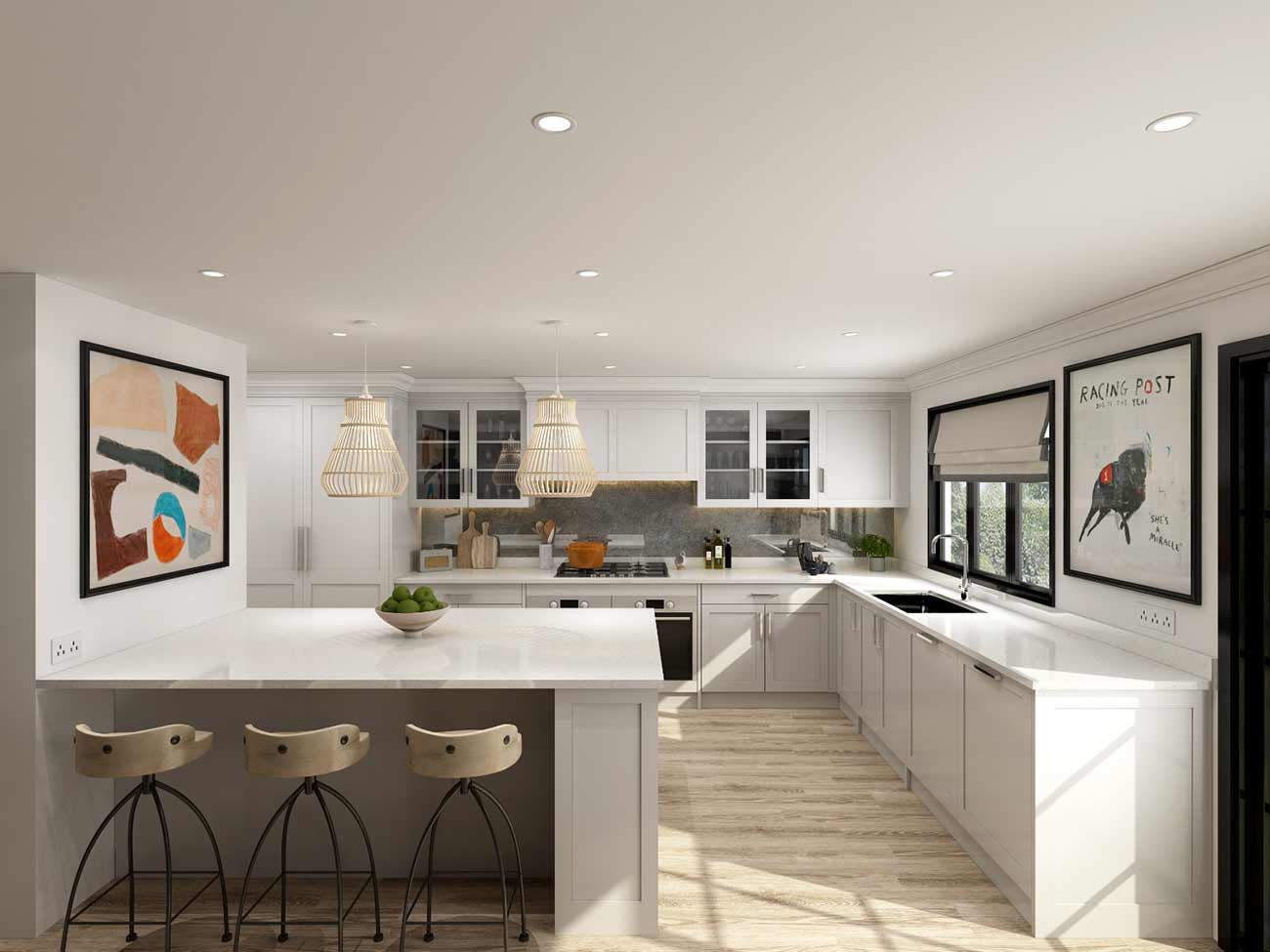 Fast & affordable
Through a clever combination of design and creativity, we have produced three beautiful custom kitchen ranges. Each design in this collection recreates the look of a more expensive, bespoke kitchen. Our customers range from homeowners and housing developers to interior designers who are looking for style and affordability, and don't want to compromise on either. At Mark Taylor Design, we take pride in a fast, reliable and straightforward service and we cater for both consumer and trade customers.
With MeThD, we are leading the trend for movable island units. You can simply wheel this piece of furniture into place anywhere in this open-plan kitchen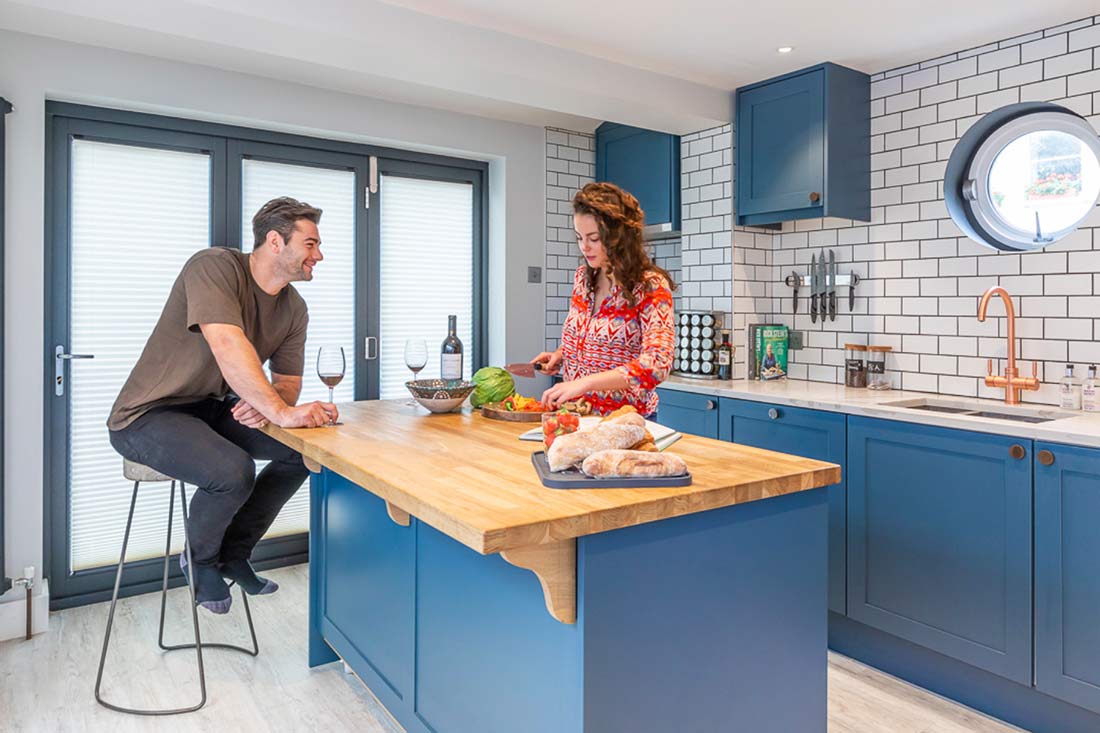 Versatility in the kitchen
We believe movable kitchen islands make perfect sense if you are looking for versatility in your kitchen. After all, this creative design embraces changing needs for space in the hub of the home. If, for example, you have a business meeting, our MeThD mobile island can easily be moved to one side and a table and chairs can be put in its place.
Fixed island units tend to have a central location in the kitchen. Choosing the option of a piece of furniture on wheels provides you with ample ways in which to reconfigure your room's layout, meaning your kitchen space can flex to suit your needs.
For a compact City apartment, a small mobile island could help to transform your kitchen into a more functional space with additional room for food preparation. However, this furniture can work just as well if you benefit from a large, open-plan space. You can roll your movable island into place, perhaps in the living area, for serving drinks and nibbles when entertaining.
This classic MeThD kitchen has been designed and created in Overcoat Blue with a customised mobile island unit and breakfast bar
Traditional Shaker-style kitchen case study
Classic kitchens are synonymous with the notion of bespoke design. So it made perfect sense for us to create a kitchen range, that would reflect a timeless, style.
We designed this MeThD kitchen for clients who were looking for a flexible, urban-style space with an island. They had requested plenty of space to cook and entertain. However, the couple wanted to create more space when needed either for entertaining larger groups of friends and for teaching yoga. We designed a customised mobile island unit and breakfast bar. It can be wheeled to one side or into the garden as an outdoor island if the weather is fine. We painted the cabinetry in MeThD Overcoat Blue with a durable factory finish. MeThD copper door handles complete the look with a stylish 30mm Nuevo Calacatta Quartz worktop. We can also supply in-frame doors if preferred.
Sleek and modern, our new MeThD handleless Cornflower Blue kitchen has recessed gaps in the door fronts, making this the perfect choice for families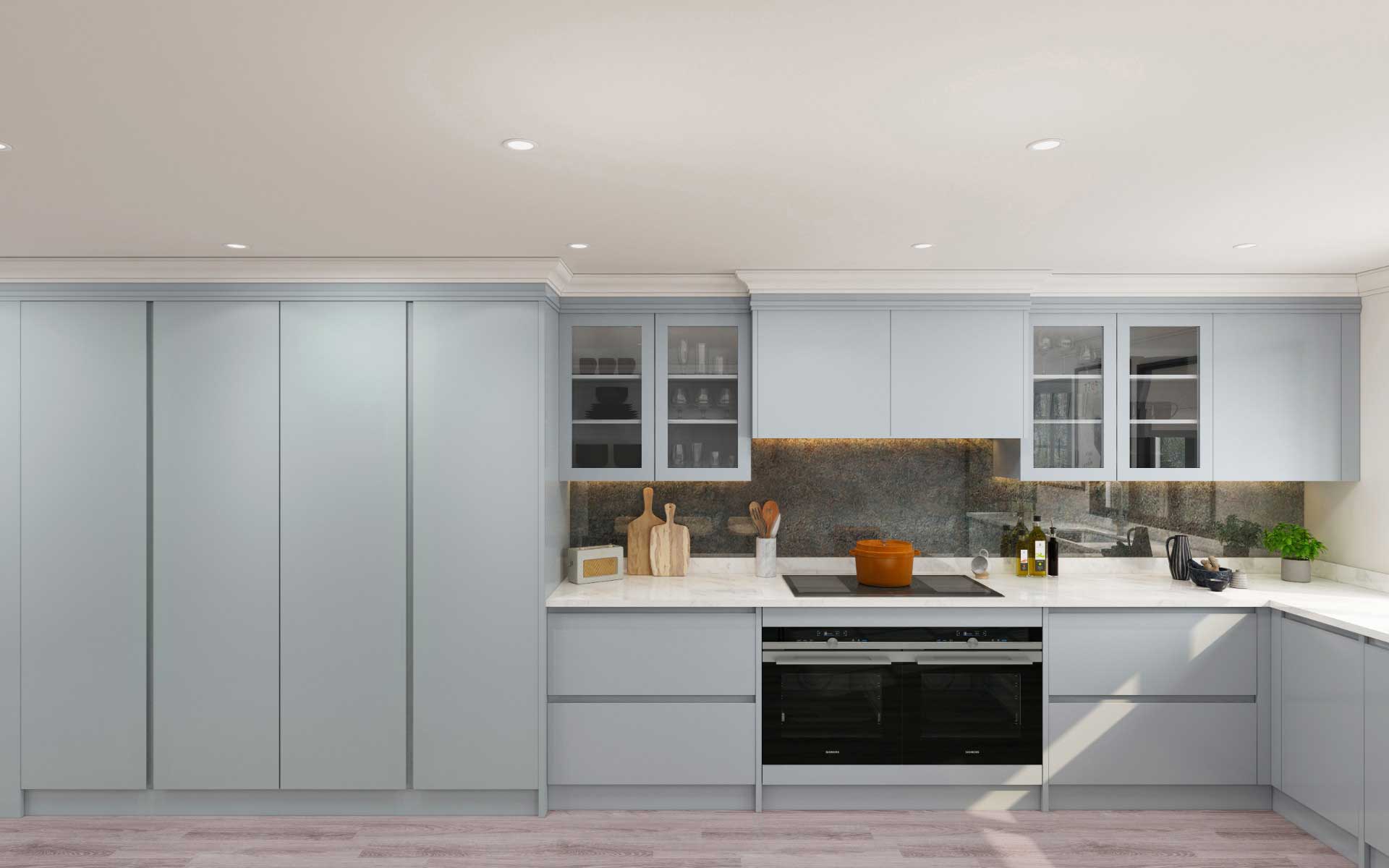 Handleless kitchen:
We designed our new handleless kitchen range with chic and clutter-free living in mind. This carefully curated design with clean lines makes the perfect choice if space is at a premium. The style is particularly versatile and has a minimalist finish. Simple, yet functional, our handleless kitchen consists of beautiful solid doors where finger marks can be a thing of the past. You don't need to touch door fronts as you can open your base, wall and tall units in recessed gaps for your fingers. Families will also benefit from this kitchen range; the cabinet design makes it harder for young children to open the doors.
Choose between cabinet handles or push-to-open latches on our new contemporary flat-door kitchen shown here in Dakar Green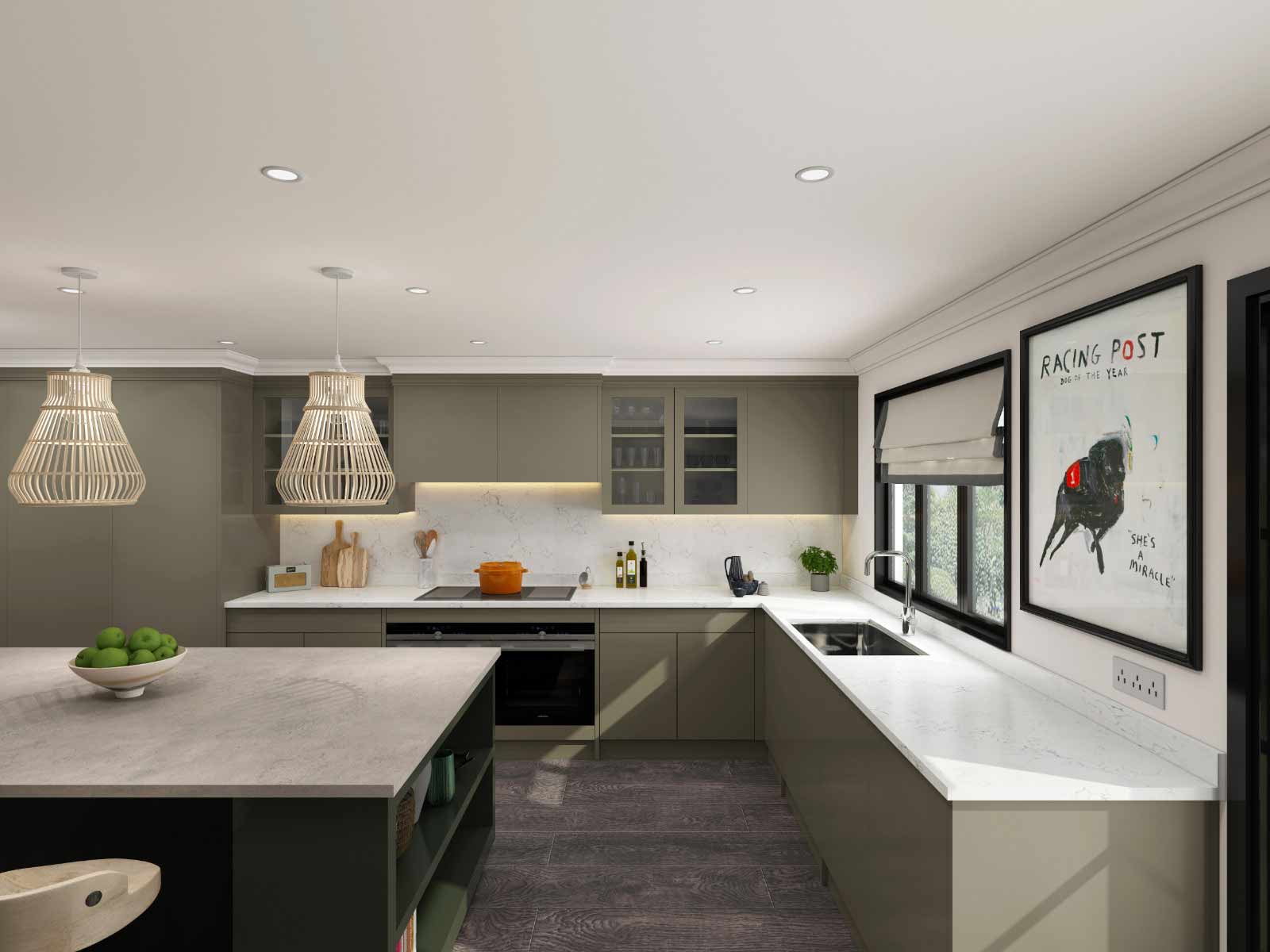 Contemporary flat door kitchen
This stylish, sleek kitchen range in our new collection allows you to choose cabinet handles or push-to-open latches – the choice is yours. You can still create clean lines and a smooth finish with a push-to-open door. However, if you prefer handles, take your pick from bar, knob and decorative options. This way, you can add your own personal touch to create a distinctive and unique kitchen.
Our MeThD contemporary flat door kitchen features Fenix, which is a new, hi-tech material that prevents fingerprints, with a superior finish. It is shown here in Grey.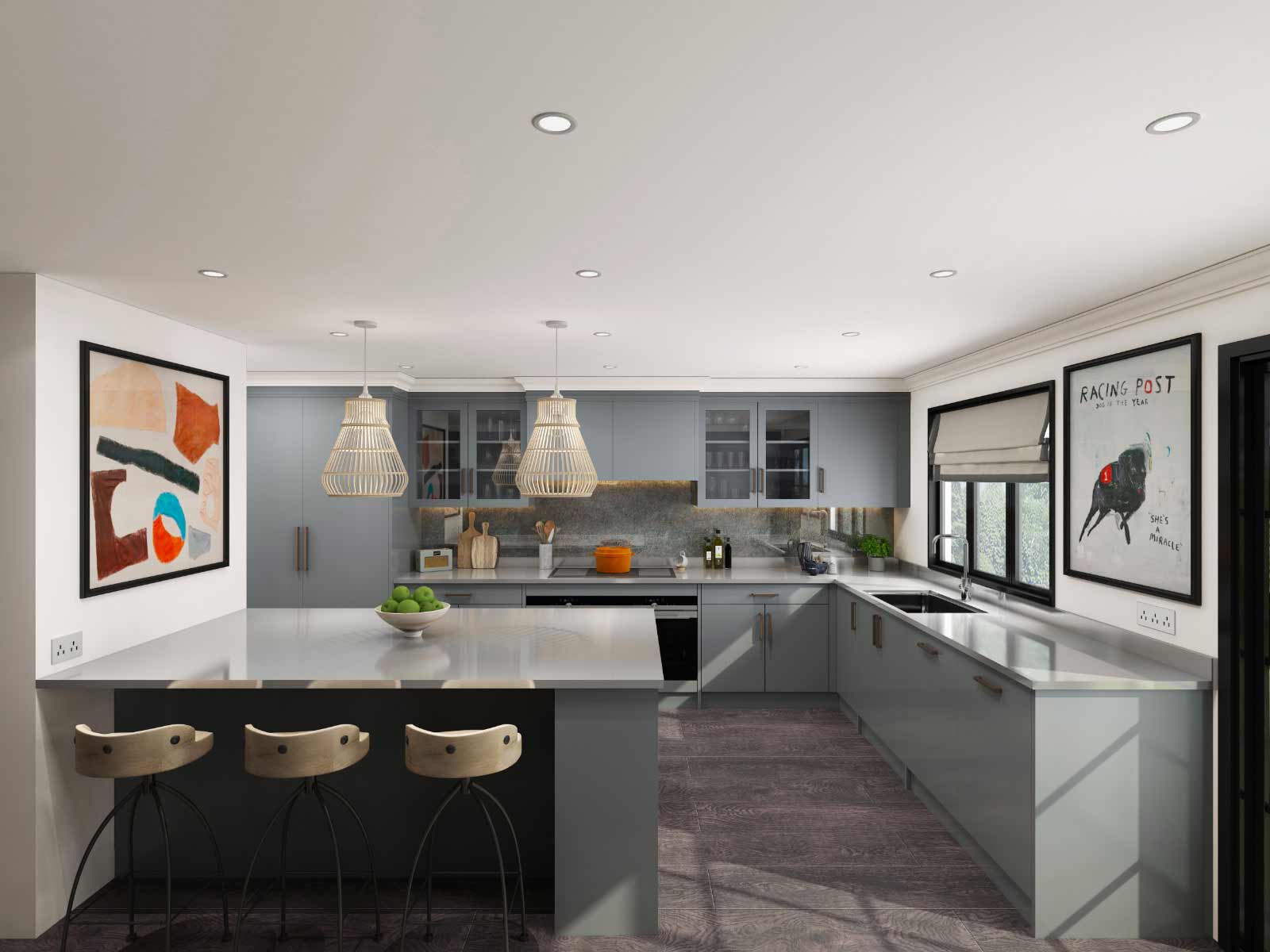 Creative colour & finish
Our colour choices across every kitchen range in this new collection are extensive. We offer a multitude of bespoke options beyond MeThD standard colours. These cabinets can also feature a high quality satin lacquer or matt finish (called Fenix) – a new, high tech material, which has revolutionised the world of interior design. This finish looks superior. It is also soft to the touch, opaque and extremely durable. Fenix is suited to busy households and is highly resistant to household cleaning products and serious knocks and scratches.
The ordering process
Ordering a MeThD kitchen couldn't be easier. Our design team can work closely with you to help you choose your preferred aesthetic and range style. We then make a series of design adaptations to ensure your new kitchen will suit you and your home. Our expert kitchen designers will use their knowledge and skills to design your kitchen in consultation with you, so that you'll agree which finish or finishes you prefer, and how you want the style configured. We also provide you with the final costs. We will then manufacture your kitchen so that you can have it delivered to site in just eight weeks following your initial commission.
Installation
Our custom ranges allow for easy installation as we deliver your kitchen to your home or site ready assembled. This is a key part of the installation process, which will ultimately keep costs down. Assembly can also be done on site if preferred. Fitting is included in the price.
If you would like to book a consultation with our design team and find our more about our MeThD range, simply call 01628 486707 or visit www.marktaylordesign.co.uk