Great lighting design is one of the most important elements in any interior. In addition to enhancing functionality, illumination can also transform mood, ambiance and the perception of space. For optimum results, a project's lighting plan should be implemented right at the beginning of the creative process. The best lighting designs maximise the amount of natural daylight available, then enhance this with complementary forms of artificial light. Task, ambient, mood, feature and architectural lighting all have an important role to play. The right type can enrich the colour, character and tone of any room. It can also accentuate physical features such as heights and recesses.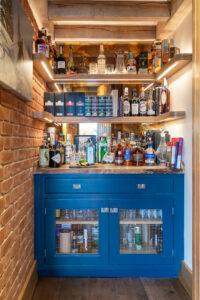 Key lighting design considerations
"There are three key facets to consider when planning lighting within a room design," explains our director Mark Taylor. "The size of the room; the nature of the light and how it hits the room; and the existing shapes and ceiling heights." The client's personal preferences and their budget must also be taken into consideration. "Lighting can form a very expensive part of any room, sometimes more than the cost of furnishings and joinery," Mark confirms. "So, it's vital to establish a realistic budget from the outset."
Rooms size and shape are next on Mark's lighting design checklist. "We would assess the shape of the space, where the darker areas are, and how light the room needs to be," he explains. "We would also consider where we need to avoid glare or reflection, and the colour palette and materials. Lighting can fundamentally change hues and tones." Mark continues: "We would also take into account energy conservation, and how the lighting will be controlled. Solutions might include remote control smart home lighting systems such as Lutron. More traditional options – such as arc lamps and Anglepoise® lighting – can be both attractive and cost-effective if they are placed correctly and suit the interior's aesthetic."
High ceilings were a particular challenge for this multi-functional Marlow kitchen project. Mark and his team incorporated a strip light on the walls, bouncing light off the ceilings to avoid any dark spots. To maintain task lighting, they added LED strips to the wall shelving, to illuminate all the work surfaces.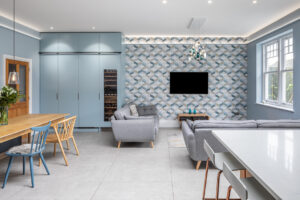 The different types of lighting
A room's primary function usually dictates the type of task lighting required. It can be hidden or directed specifically at certain areas that need to be illuminated. Mark notes: "This type of functional task lighting can still deliver visual design impact via an exposed fitting, either from a ceiling or a wall."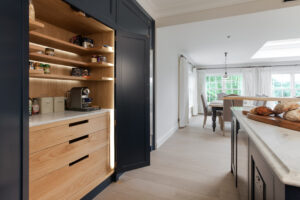 Feature lighting is about much more than mere functionality. It's about the shape and style of the fitting, as well as the illumination it provides. It's an ideal way to make a statement and enhance a specific element of your decor – whether the light in question is off or on.
Then there's architectural lighting. "There are certain situations where natural light simply is not available," Mark explains. "To offset this, we could install a large, illuminated panel simulating daylight coming in from a skylight. Or we might use an LED hidden strip to "bounce" light off a ceiling, especially if the ceiling is very tall and spotlights would create dark spaces. That's what we did in this drawing room, as the client didn't want too many spotlights. So, we added an LED strip above the tongue and groove panelling."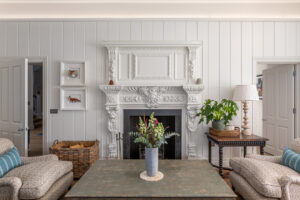 The art of layering
Bespoke, layered lighting design schemes use multiple light sources to deliver a combination of functional, ambient and accent lighting. "Depending on a room's function, we usually look at up lighting, mid-level lighting, and ceiling or task lighting," Mark explains. "Everything depends on the height of the ceiling, the amount of natural light available, and how the room will be used."
He continues: "For instance, to light an area with two specific functions – such as a kitchen and TV/entertaining area – you need to adapt the functionality of the lighting for each use, and for different times of the day. In many cases, we use lighting that bridges both areas. For example, we might install wall lights that can be turned on to enhance mood, when task lighting isn't required."
This Shaker-style kitchen project incorporated two levels of flooring – and two levels of ceiling. It also featured three distinct areas: the snug, dining space and cooking area. Our lighting design used a combination of floor lights, mid-level lighting, task lighting, LED linear lighting and a window wall to illuminate and harmonise the different elements.
Why bespoke works best
While there is no 'one size fits all' with great lighting design, there are some general guidelines that apply, depending on a room's primary function(s). Obviously, kitchens require practical task lighting so that meals can be prepared safely and easily. Conversely, the rule of thumb with most cloakrooms is to celebrate their relative darkness. Soft lighting – and not too much of it – can minimise the sanitaryware, mitigate small spaces, and create a feeling of calm. For example, this windowless cloakroom is dark, intimate and tranquil. Our lighting design created a sense of movement and fantasy without over-illuminating the space.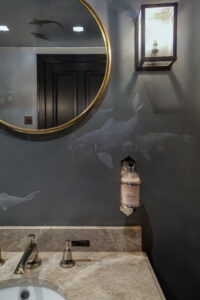 Multi-purpose spaces, such as open-plan areas, family rooms and even drawing rooms, are likely to require a lighting design that can accommodate different occasions at different times of the day. In fact, combinations of low level and lamp lighting usually work best.
Lighting design in bathrooms & bedrooms
"As bathrooms have become more luxurious, clients want to create a mood for them, rather than just 'wash and go'," Mark reveals. "Sensor lighting is a really great way to make the bathroom an inviting space from the moment you walk in. Soft warm lighting can be used to replicate candlelight. LED strip lighting is also an effective way to highlight a particular design feature."
Bedroom lighting design also needs to be versatile. Most clients require lamps/task lights for reading in bed and choosing clothes, although the room in general should be calm and sleep-inducing. Mark observes: "A flexible lighting system that gives clear visibility where you want it – but is very forgiving where you don't – is the key."
Getting lighting design right
"Not all clients understand the value of lighting design – but it really can make or break a space," Mark observes. "There's both a science and an art to great lighting design. And it represents some of the best money spent in terms of creating or renovating loveable living spaces."
For more information about our lighting design services, or to discuss an upcoming project, please contact us here.