We are finalists in the SBID Product Design Awards 2020! Please vote for us in the Kitchen Product category, Bespoke Movable Island. Click here to vote
Voting closes on the 30th September.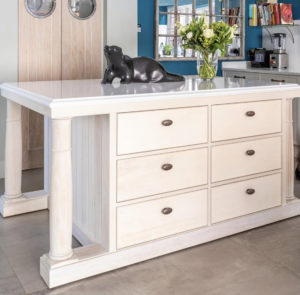 When designing a movable island Mark Taylor Design looked into ways in which this bespoke piece of furniture would enable them to create a variety of configurations to allow for multiple uses for the island unit and the kitchen space it sits in. It rotates on hidden castors to allow it to be moved at a variety of angles to reconfigure the space in the kitchen. It locks when in position to avoid instability and movement.
The island is practical too. It is not only movable but includes:
– 2 large double door cupboards and 6 deep drawers
– a towel bar
– hidden power with a double plug and handy USB sockets for phone charging
– a seating area at one end, for stools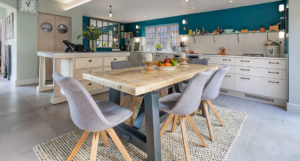 Options are available without the hidden power supply which then allows the island to be moved to any area in the kitchen.
The movable island is made from limed tulip wood, which provides a subtle contrast with the base units that surround it. Egg-shaped handles on the drawers differentiate it from the surrounding kitchen units, with bar handles in the same finish. A deep white quartz top creates a clean, luxurious finish and provides a neutral surface for displaying food, flowers, sculpture – or for working on.
More photos of this stunning project can be found here